TOC Europe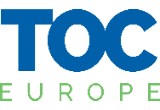 14 June 2022 - 16 June 2022
---
Welcome to the AGM for port and cargo supply chain professionals – where the global community will be re-connecting once again face-to-face in 2022!
TOC Europe returns to Rotterdam after a two-year absence and we've been working hard to ensure you can rejoin your industry colleagues in-person to learn, debate and network on 14 - 16 June 2022.
With an unrivalled 40+ year heritage, here is the place to access C-level decision-makers and influencers, engineers, automation leads, digitalisation specialists and more, all hungry to access the latest tech to supercharge their port operation strategies, all underneath one roof.
With the industry now keen to get back on the road towards growth, this is the essential event that container supply chain professionals turn to year-on-year to embrace the exciting new tech revolutionising the sector.