Coaltrans Anthracite & Coking Coal 2017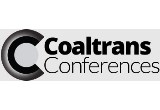 20 June 2017 - 21 June 2017
---
After a volatile few months for coking coal prices, are we finally seeing recalibration in the market and a return to more stabilised prices, at least in the short term?
Coaltrans Anthracite & Coking Coal 2017 will allow you to examine the interplay between the global anthracite, coking coal, petcoke and PCI markets and keep abreast of the latest global developments.
With coking coal producers feeling the pinch, it has never been more important to maintain a competitive edge.